November 26, 2023: Grateful Anyway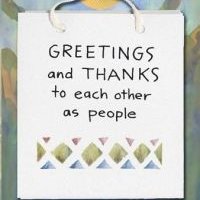 November 26, 2023
10:15 a.m.
Thankful Anyway
Reverend Connie Grant and Worship Associates
The "words spoken before all others" are words of thankfulness, in a prayer sometimes referred to as the Haudenosaunee Thanksgiving Address. We'll explore the spiritual practice of gratitude, even in difficult times.
Order of Service
Our order of service is available both here on our website and in print.
Ringing of the World Bell
Prelude
"Prairie Sunrise" by John Leavit
Ray Fellman, piano
Welcome & Announcements
Anabel Watson, Connections Coordinator
Lighting the Chalice Flame
Words by Katie Gelfand
Jesica Conger
Erica Whichello, Worship Associate
Opening Words
"Give Us Thankful Hearts"
by W.E.B. DuBois
Reverend Connie Grant
Opening Hymn
#347 "Gather the Spirit"
Story
"We Are Grateful: Otsaliheliga" by Traci Sorell
Read by Sarah Johnson
Religious Education for Children:
Ages 4-6 meet for Spirit Play in Room 105
Ages 7-12 meet for Kids' Club in Room 208
Children may be picked up at these rooms at 11:30 a.m.
Childcare is available from 9:30 to 11:30 a.m. in Room 108.
Pastoral Prayer and Meditation
"When Giving Thanks Comes Hard"
by Robert Mabry Doss
Offertory
"Autumn Gold" by David Tolk
Ray Fellman, piano
During the Offertory, you are invited to silently light a candle to represent a joy or sorrow in your life.
You are invited to participate in this morning's offering by contributing as the basket passes or online at uucb.churchcenter.com/giving. You may make a non-pledge gift or a contribution towards your annual pledge, or both, at that site. This fiscal year, 25% of our non-pledge Sunday offerings will be given to All-Options Pregnancy Resource Center, which provides cloth and disposable diapers/wipes, pregnancy tests, feeding supplies, and other essentials to families in need. See alloptionsprc.org for more information.
Reading
"Words Spoken Before All Others" from the Haudenosaunee Tradition
Madison Colquette and Erica Whichello, Worship Associates
Gift of Music
"Lakhóta Lullaby" traditional, arr by Martin Malto
Ray Fellman, piano
Sermon
"Grateful Anyway"
Reverend Connie Grant
Closing Hymn
#322 "Thanks Be for These"
Extinguishing the Chalice Flame
Words by Charles Howe (adapted)
Choral Benediction
"We Give Thanks" by Wendy Luella Perkins, arr. by Susan Peck
Show Order of Service
Hide Order of Service